8th April 2006 at 12:38
Today I have another of those wonderful days of random flying for no particular reason. It's 7:07am and I'm currently sat in departures at LBA, awaiting boarding of flight No. 1 of four I have today that will take me to Belfast City, Manchester and London Heathrow.
My first flight is with FlyBE on the Dash 8, adding a new airline, new aircraft and new airport to my list. Having seen the Q-400's fly in and out of LBA and thinking they're quite smart looking aircraft, I'm looking forward to my first experience of them. It's also nice to have a day of flying that, much as I love them, doesn't involve being on a 737 of some variety (although you'd never hear me complain about the good old and now sadly no more FR '200's).
On arrival in departures (if that makes any sense) at LBA, I usually have a quick peek around the corner of gate 2, as it can sometimes offer good views of parked aircraft. What better way to be greeted than by a 752 in the morning light. The main thing that will make the difference between today being a good or not so good day is the weather. Although my connection at MAN is short, I have a reasonable amount of time at BFS and LHR, so should the weather be as bad as it was on a certain day in MAN last week I won't be all too happy!
Anyway, I need food, so I'm going to head off and in search of the most expensive sausage and bacon sandwich ever to grace the face of our blue planet.
Hmm… It's 8:23. We should be almost pushing back by now. Instead here I am still in the terminal with our departure delayed until approximately 9:35. Had my connection at BFS have been as tight as the one I have at MAN, my entire day would have been ruined, so I guess I should really be thankful it's this flight that's been delayed. Hopefully all from here will run smoothly!
Flight 1
Airline: FlyBE
Aircraft: Dash 8 Q-400
Registration: G-JECL
Route: LBA-BHD
Our flight departed from good old gate 5a, the same gate used by the Ryanair DUB flights that I've come to know quite well in the last few months. Once boarding was complete, we had a further 15 or so minute delay while the ground staff brought the paperwork to our plane. I was slightly disappointed the cabin crew failed to make an announcement informing us of the reason why our departure was delayed even further.
As this is my first flight on the Q-400, I should probably say a little about it. The simple fact this aircraft has its own staircase is almost a novelty for me (738's aside). The main thing that struck me on entering the cabin was how bright and clean it was. The walls were actually pure white, as opposed to the slightly yellow hue many aircraft interiors acquire, no doubt a reminder of the days when smoking was the norm in the air (luckily they were days I never knew).
My seat was 6D, just in front of the propeller, which was, again a novelty as this is only my second flight on a turboprop aircraft. As we began our take-off roll I was surprised at the acceleration this little plane achieved. It seemed quicker than the average jet. Unfortunately I missed a superb opportunity to snap an aerial view of my home airport on departure. The relatively early rotation gave us a great overview of LBA.
Here are a few random shots from the flight. The first one was taken with my phone as we boarded.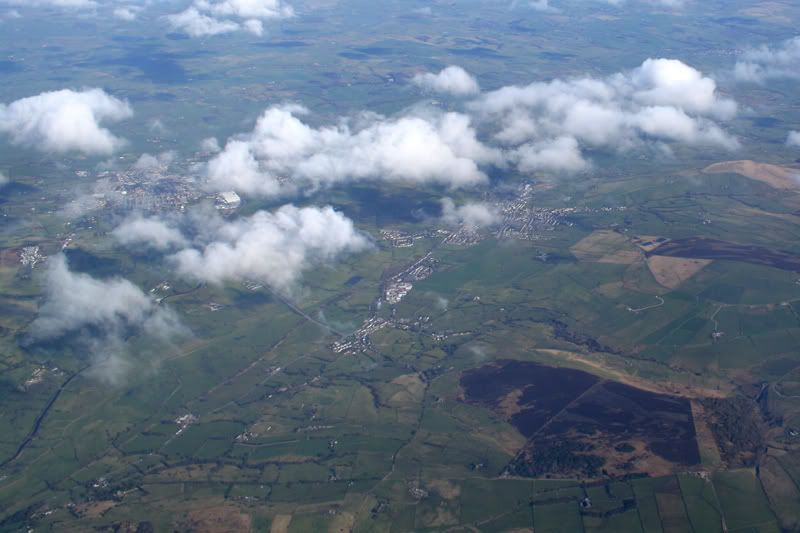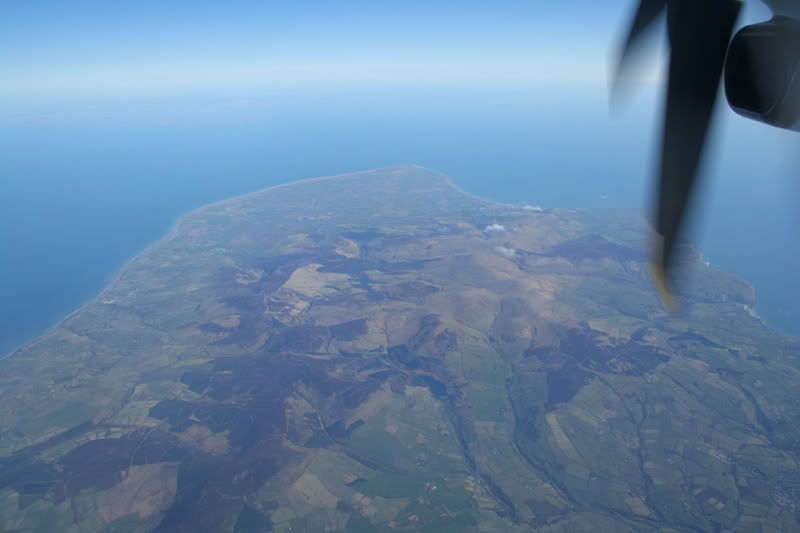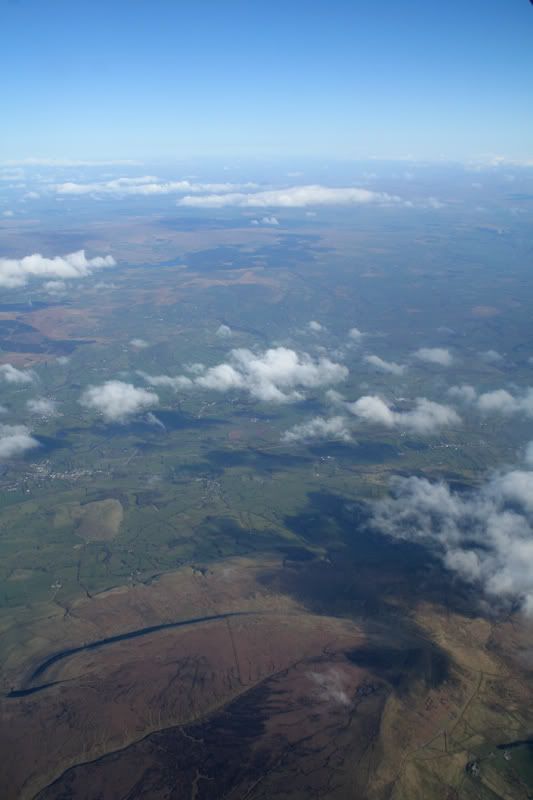 Overall I had a pleasant experience with FlyBE. I'm not entirely certain the delays to our flight can be attributed to them or not, but nonetheless, the crew were very apologetic and we eventually arrived at our destination.
I'm now sat in the very small but pleasant departure lounge at BHD. Unfortunately with our flight being delayed it didn't leave me much time to investigate around the airport and find good photography spots, so my BHD photos amount to nil. Our approach to the airport here was quite unsteady, and our little plane was feeling the effects of the wind, but the scenery was superb. It looks like there are many spots around here that would make ideal spotting spots, and I'm sure I'll be booking flights back here again sometime soon. Next stop: Manchester, where I'm hoping to wander up to the level 13 car park and capture a few of the movements around there.
Flight 2
Airline: British Airways
Aircraft: Dash 8 Q300
Registration: G-BRYW
Route: BHD-MAN
Today seems to have had its fair share of delays. Not only was my flight out of LBA delayed by over an hour, we were 20 minutes or so late departing BHD. For some odd reason I had it in mind my flight from MAN to LHR was at 15:00, so when I arrived at MAN at 14:30 I was, needless to say, a little worried about getting my connection. Luckily for me, I'm a little stupid, and my basic grasp of time is quite poor (at least in anything not related to music). My flight was actually at 15:30, so I easily made it.
It never ceases to amaze me how often I jump on an aircraft operated by the likes of Ryanair and Easyjet, only to find them in much better condition than aircraft I've travelled on with airlines like BA and bmi. In this case, BA's Q-300 is quite a contrast to the bright, shiny and less than 1 year old Q-400 I disembarked a few hours previous. After 9 years of hard work since its construction in 1997, it's become worn and has obviously seen better days. This was probably the most uncomfortable flight I've ever had. As anyone who's met me knows, I'm not the smallest guy on the planet. However, as I sat in my cosy little seat aboard this baby plane, an Irish guy sits next to me. A reasonable size comparison would be an American basketball player next to a smurf. He was a very pleasant guy, just huge, so I was confined to a space not much bigger than the average hamster cage. Nonetheless, as I had a window seat I just spent most of the flight leaned forward observing the world moving below us, so it wasn't too bad.
I was surprised at how much smaller the Q300 is than the 400. It felt like a totally different aircraft, not just a smaller version. I still enjoyed the flight on this noisy little plane, and I certainly intend to fly it again.
Sign in to post a reply